1) Navigate to the university web page www.cauc.ca
2) On the right side of the page locate: UPCOMING EVENTS. Click on that (or navigate to www.cauc.ca/calendar)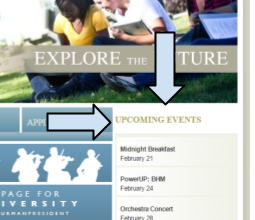 3) This is the University Calendar. Click on the bottom right place of the Calendar, the link that says: "Google Calendar"
Click on this "+ Google Calendar" button
4) If you are not signed in, Google will ask you to login. Use your complete email to login. be sure you get the green padlock, with https:// in the beginning of the URL!
5) Google will ask you to add to the calendar, select yes
.
6) Burman Events will appear under "Other Calendars" on your Gmail Calendar.
7) If you want to disable those events, just click on the Burman Events link (on the left)
.
8) If you want them back, click again!